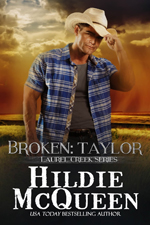 Broken:Taylor
Ex-detective Taylor Hamilton is broken. After the devastating loss of his children and parents, his marriage crumbled and fell apart. Besides the grief, he is tortured daily by intense pain after a job related shooting. Not willing to face the reality of what his life has become, he finds a way to deal with it that could make everything worse.

Allison Brennan has one huge reason for returning to her childhood home of Laurel Creek, Montana...Taylor Hamilton. Looking for a fresh start after a failed relationship, Allison opens a flower shop and sets her sights on the ex-detective she's loved since high school. Unfortunately the main obstacle in the way is none other than Taylor Hamilton himself.

Do Taylor and Allison have a second chance at love, or will they destroy each other in the process?
BUY: