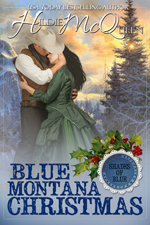 Blue Montana Christmas
It's Christmas in Alder Gulch and two newcomers have arrived with threats against the Cole family.

If three brothers, Grayson, Ashley and Bronson make a formidable front, try adding Josiah McClintock and the patriarch of the family, Hank. They are a force to be reckoned with.

Return to Alder Gulch as the Coles face something that will change their future forever!
BUY: Amazon