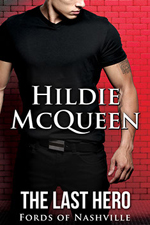 The Last Hero
"Sexy and action-packed...I dare you to put it down."
~Liliana Hart, NYT Bestselling Author of the MacKenzie Family Series
Mega star Jensen Ford returns to his home state of Tennessee, to film a blockbuster film. Although the pretty local bakery owner catches his eye, she could never survive his Hollywood lifestyle. His mind knows its best to keep her at arms length, but how to convince his heart?

Cassie Tucker doesn't like arrogant Jensen Ford, definitely doesn't want to get to know him either. With a cupcake shop to run, an ex harassing her and her younger brother moving in, she doesn't have time for the movie star's antics.

Is it fate or happenstance that they end up alone together time after time?

BUY: Amazon