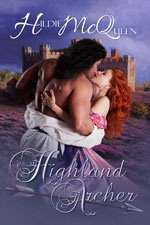 Highlander - The Archer (Part 1)
Valent made an oath to protect the McLeod clan, however, after years of mistreatments at the Lairds hands, he questions his obligation to uphold his promise.

When rival clan attacks and Ariana McLeod's clan world is turned upside down. That she's fallen in love with the handsome archer, Valent, is a complication and a blessing at once. Amidst battles, revelations and treachery, is it possible to expect their love to triumph?