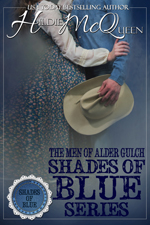 Shades of Blue Boxed set
Head out to the untamed west with Hildie McQueen's Shades of Blue.

Meet the men of Alder Gulch, Montana. Rugged, hardworking cowboys, tamed by the power of love.

Big Sky Blue - (Hank and Elizabeth) A story of two very different people who belong together, proof that sometimes fate can have a sense of humor when it comes to love

A Different Shade of Blue - (Grayson and Nora) Reluctantly agreeing to a shotgun wedding, they hatch up a plan to break up. Now only if they were not so attracted to each other.

The Darkest Blue - (Ashley and Grace) With so many obstacles against them, will they overcome and find true love?

Every Blue Moon - (Bronson & Olivia) When these two people are imprisoned in a cabin during a heavy snowstorm, the strength of their resolve melts faster than the snow.

Blue Horizon (Josiah and Laura) Will two lonely people be able to ever come together and when they do will their love overcome secrets, tragedies and the danger that looms?

Montana Blue - (Mitch and Bethany) Amidst deceit and betrayal, Mitch and Bethany will have to fight for their own perfect destiny.

Midnight Blue (Matt and Kathryn) From the first moment she lays eyes on the handsome and very nude Matt Corson, she is convinced they are meant to marry.
BUY: Amazon