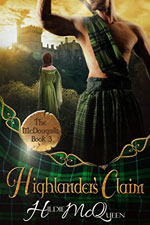 Read Excerpt
Highlander's Claim - The McDougalls, Book 3
Highlander's Ravished by the Laird, Story 1

Ian McDougall's father is dying; his future is set as the new laird of the Northern McDougall's. With an upcoming marriage that secures an alliance to a stronger clan, and the imminent threat of attack from clan Campbell, it is the wrong time to fall in love. Especially with the stunning lass, Ailios Connery, who is not his intended.

In the Warrior's Arms, Story 2

Lachlan McDougall's charge is easy. Fetch his brother's betrothed, Claire McLean, and bring her to their keep. But the beautiful feisty woman has other plans. She wants Lachlan as her husband. Unable to fight against the attraction and her plan to seduce him, Lachlan succumbs.
Sensual read with explicit language and sexual scenes.
BUY: Amazon