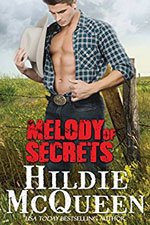 Melody of Secrets
There's a big difference between fame and infamy, the latter can be a huge problem when falling in love.

The fact that Sophia Ortiz changed her name doesn't mean her past will remain hidden forever. When a famous country singer asks her out, it's both a dream come true and her worst nightmare. Somehow she has to find a way to create a few memories and get away from him before her true identity comes to light.

Country singer Chad Hunter is at the top of his career, if only the same could be said for his personal life. It's comical that he's gotten very close to creepy in an effort to get a beautiful woman's attention. Making a fool out of himself is worth it because he's sure Sophia Ortiz is the one.

No matter how strong the attraction, it's best if these two get away from each other as fast as possible.
BUY: Amazon | iBooks | B&N | Kobo